Lasagna. A classic, right? Everybody has her own way to make it. Personally, I still swear by my mother's recipe. I'm not sure what it is, but I love it, and it's my husband's favorite dish, so I don't think I'll be veering away from that if I'm going for the basic. I do, however, like to try different varieties on lasagna, in particular vegetable lasagna's. I've made one with spring veggies – zucchini, squash, eggplant, and the like. But flipping through my new
Southern Living Ultimate Christmas Cookbook
that Santa brought me, I came across another vegetable variety –
Roasted Vegetable Lasagna
. I thought this would make a good choice for tonight's post because it calls for several vegetables that require specific prep.
First is the squash. Butternut squash to be exact. Now as you may realize from the frequency of squash in my posts, I've got quite a crush on squash. Squash, however, likes to play hard to get. It's not as easy as peel, chop, and go like the sweet potatoes in this dish (winter squash, that is). No, squash makes you work before it'll warm up to you. In fact, warming the vegetable up is one of the best ways to make it easier to work with. I've read that boiling it for several minutes works. The downside of that is that it makes too hot to handle immediately. I've also heard that baking it for a bit will soften the skin for peeling and the flesh for dicing. This method, however, takes a lot of time, as you have to preheat the oven and then bake it for a good while. My most recent attempt – and most successful – is to just microwave it on high for two minutes. It doesn't leave it too hot to touch, and it just takes two minutes.
Next come leeks. They look like huge green onions, but they actually work just the opposite. For green onions, it's the dark green leafy part that you want. For leeks, you want the white part. Slice it like an onion all the way up until the green part, then rinse.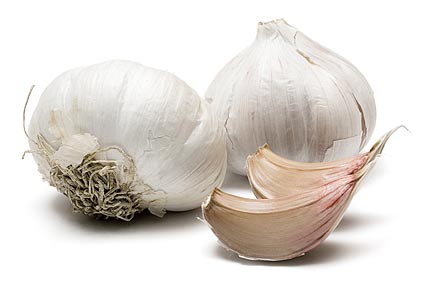 The last prep tip that I'll leave you with is for garlic. Most people that I know just used the precut garlic in the giant jars, but if you're working with a recipe that calls for whole garlic (as this one does) or if you're stuffing something with garlic, then buying it fresh and peeling it yourself is the way to go. I find pushing down on it with the flat side of your knife just enough to hear that crush sound makes the paper peel off easily and allows the flavor to more easily be drawn from the garlic itself.
So now that you're prepped to prep, get out your chopping knife and cutting board and give this winter lasagna a try. My husband wished it had meat. (What can I say? He's a man.) But it was a very filling vegetarian white-sauced twist on the Italian classic. Comment and let me know what you think!
Roasted Vegetable Lasagna
Ingredients:
1 medium butternut squash (about 2 pounds)
½ large sweet potato, cut into ½" cubes (about 1 cup)
3 tablespoons olive oil, divided
3 cups sliced leaks (about 5 medium)
1 red bell pepper, cut into thin strips
4 cups milk
4 garlic cloves, halved
3 tablespoons butter or margarine
¼ cup all-purpose flour
1 teaspoon salt
½ teaspoon pepper
9 dried precooked lasagna noodles
1 cup grated Asiago cheese
1 cup whipping cream
½ cup grated Parmesan cheese
Directions:
1.
[Microwave butternut squash at high 2 minutes to soften.]
Cut squash in half lengthwise, remove and discard seeds. Peel squash, and cut into ½" cubes. Set aside 3 cups cubed squash, reserve any remaining squash for another use.
2. Combine 3 cups, squash, sweet potato, and 2 tablespoons olive oil on a large rimmed baking sheet. Bake at 450
° for 10 minutes. Combine leeks, bell pepper, and remaining 1 tablespoon olive oil in the large bowl. Add to partially roasted squash mixture, stirring gently. Bake at 450° for 20 minutes or until vegetables are tender, stirring after 15 minutes. Return roasted vegetables to bowl, set aside.
3.
Combine milk and garlic in a large saucepan. Bring just to a boil. Reduce heat, and simmer, uncovered, 10 minutes. Remove and discard garlic.
4. Melt butter in a large saucepan over medium heat, whisk in flour until smooth. Cook 1 minute, whisking constantly. Gradually whisk in warm milk, cook over medium-high heat, whisking constantly, 12 to 13 minutes or until slightly thickened. Remove from heat, stir in salt and pepper. Add to roasted vegetables, stirring gently.
5. Spoon 1 cup vegetable mixture into a lightly greased 13"x9" baking dish. Top with 3 lasagna noodles; spread half of remaining vegetable mixture over noodles, and sprinkle with ½ cup Asiago cheese. Repeat procedure with 3 noodles, remaining vegetable mixture, and remaining Asiago cheese. Break remaining 3 noodles in half and lay on top of casserole. (Breaking the noodles keeps them from curling up.).
6. B
eat cream at high speed with an electric mixer until soft peaks form. Spread whipped cream over noodles, sprinkle with Parmesan cheese. Bake, covered, at 350° for 30 minutes. Uncover and bake 13 more minutes or until golden and bubbly. Let sit 15 minutes before serving.